Sometimes inspiration for a painting comes to me via a story regarding a person, a house, or a community. Some stories come from the history of the place; other times it comes thru the person or people who live or lived there. Occasionally you find a real character (character as in original; slightly odd; interesting) – often an "old timer" who whose life and stories appeal to the imagination.
Such is the case behind my painting, Wilson's Farm: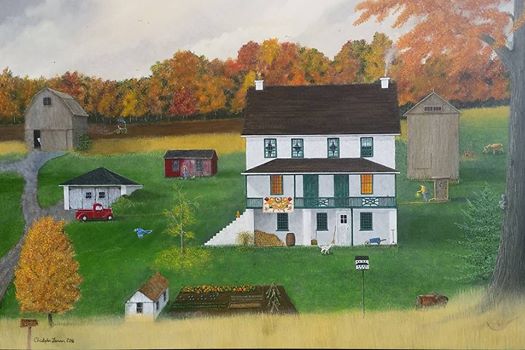 Wilson absolutely embodies the word "character". A crusty yet oddly likeable octogenarian, Wilson has lived in the 1700's era farmhouse for 60+ years. The home has not changed much over the 200+ years it has occupied its little corner of Lancaster County. The kitchen stove is the old cast iron type that you load with wood and use it for cooking and heating. There is electric, but it is made up of the knob and tube variety. It is electric in its most basic form. And then there is the plumbing…
Perhaps I should say the "lack thereof" – at least until quite recently. Yes there is indoor water for the sinks, but until about 4 years ago, there were no indoor 'facilities', to use a genteel term. Wilson used the out house located just outside the back door for all of those 60 years. That is until the local authorities decided that this single gentleman on his 125 +/- acres could no longer be allowed to personally fertilize the soil in the outhouse. Apparently, it was too much of a risk to the environment. And so it was decreed that he be required to put in a septic system.
I stopped in for a visit one day and he and I sat at his kitchen table as he regaled me with his stories from the past. I asked about the septic situation and he told me that it had been taken care of. But as I looked into the Living Room, I saw the toilet sitting there waiting to be installed. We walked into the room and I kidded him that he ought to just install it right there. He looked at me funny. And then I noticed that there was plastic pipe coming up through the floor and attached to the commode. The toilet was installed (is installed) against one wall smack in the middle of the Living Room! Open to the public. Fortunately, Wilson has few visitors and has the manners to avoid any embarrassing situations.
When I was leaving, we walked out and I pointed to the little shed and quipped about it being the outhouse. With a twinkle in his eye, and just the bare hint of a smile, he said, "Oh no, that's not an outhouse anymore… it's my… 'Tool Shed'.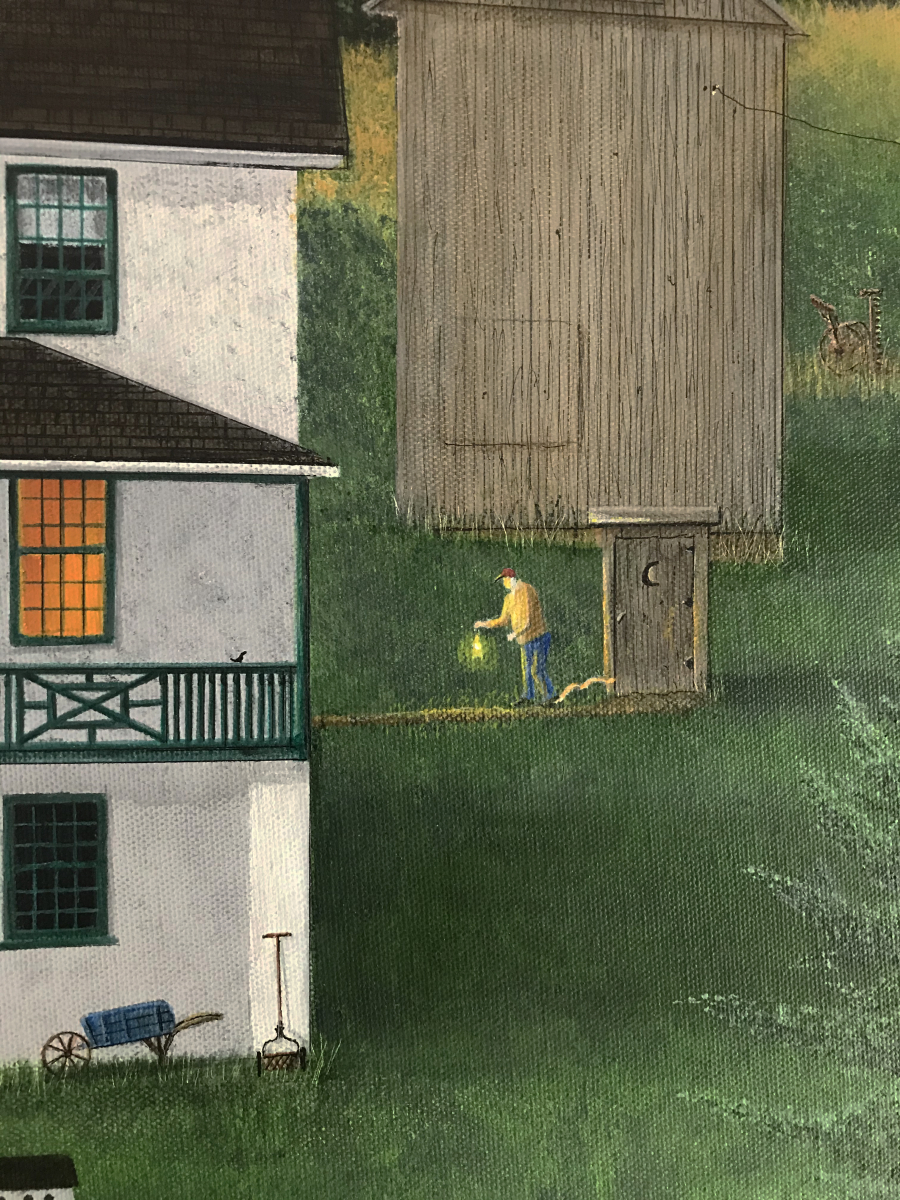 In my painting I put Wilson on his way out of his "Tool Shed" with the slight indignity of a trailing piece of TP chasing him…
Until my next story, CHL
---
Reflections Of The Past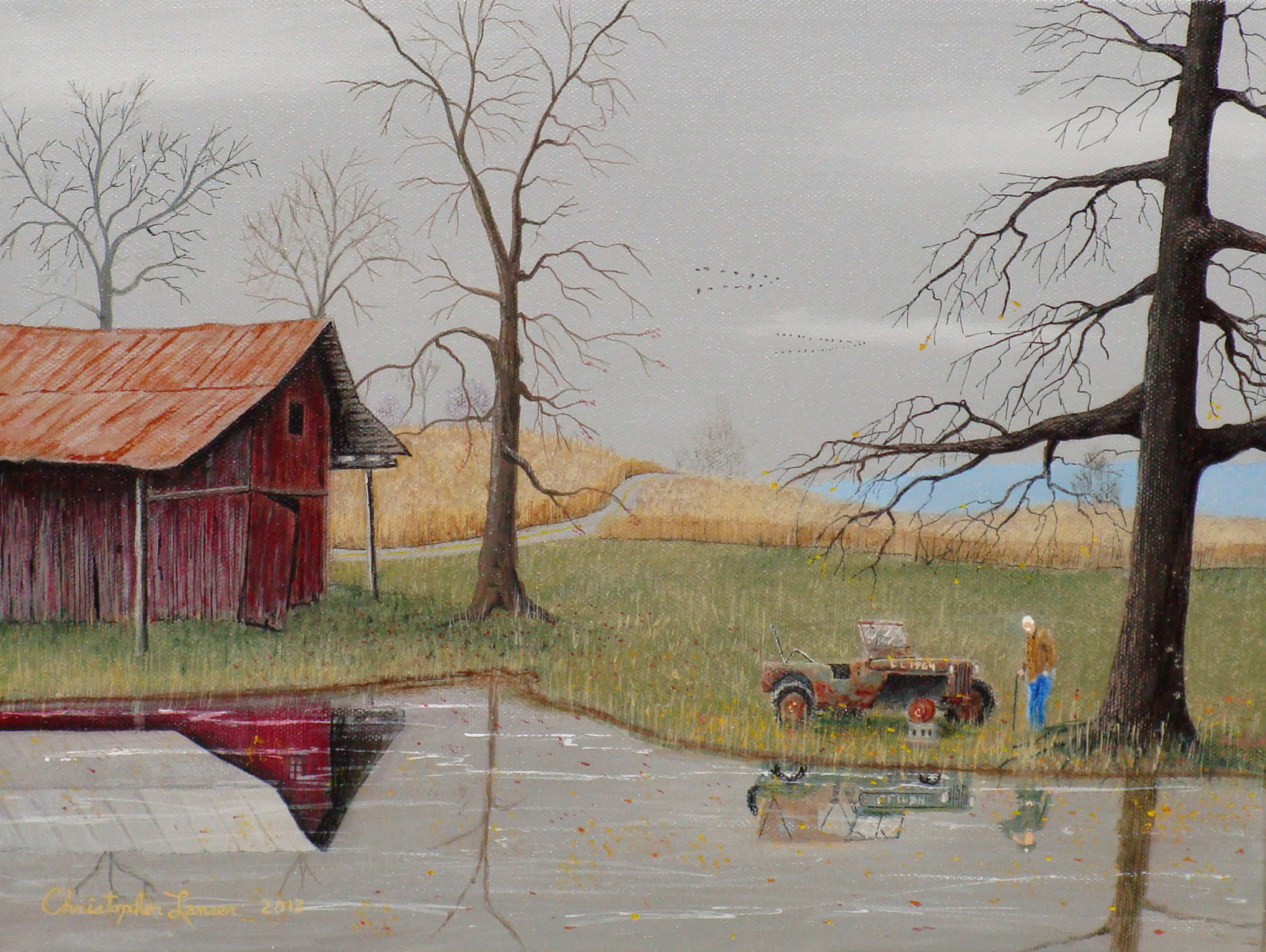 My father was a WWII veteran. He graduated from Haverford High School in June, 1943. Two weeks later, he was an 18 year old on a train headed west. He did not know where he was going.
He wrote a letter home that he mailed on 7/29/1943. The letter covered several days travelling by train. A few excerpts might help you get a sense of his experience:
"I left New Cumberland about twenty minutes to twelve. After a long ride, the train left Penna and entered Ohio. It took about 3 hours before I got through Ohio and into the State of Indiana…" Over the next 2 days he notes some of the states they passed through and then writes
"I'M LOST! The train just switched direction and we're heading South West. I wish I knew where I was going. I just saw the morning paper and was glad to see Mussolini had been thrown out. The time is 9:00 and I've just entered Kansas." Two days later, he informs his family, "Arrived in California sometime in the morning and got to my destination 11:30 that night. On train four days and almost five nights."
Eventually he writes home again to tell his parents that he has been placed in Battery C, 568thAAA AW (Anti-Aircraft Artillery Automatic Weapons) Battalion, Camp Haan, California. His duty would be as a mechanic on Anti-Aircraft guns – Quad 50's and 40MM guns. They would train there for months before travelling by train back across the country for more training in Georgia, before one last train ride to NYC. There they would board a Liberty Ship for the dangerous journey to England. His outfit arrived there in November 1944.
My fa
ther's WWII service had a happy ending as he never got into the thick of things, but saw a few scary, a few sobering, a few funny, and many few historic events.
His WWII experience was my inspiration for "Reflections On The Past". You need to look at the painting carefully, but if you do, you'll note that the scene reflected in the pond is not exactly what the old soldier is seeing in reality.
Thanks Dad, for your service and being part of the "Greatest Generation" CHL